Auguste takes first steps to becoming own boss
Last Updated on Wednesday, 04 June 2014 11:18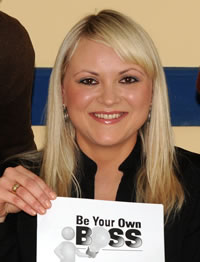 Ever thought about being your own boss. Well, it can be as easy as abc – ask Auguste Jozefovice.
Lithuanian Auguste has just completed a new programme with Armagh Business Centre and taken the first steps to realising her ambition.
Explained Auguste: "Before participating on the 'Be Your Own Boss' programme I had very little knowledge of what was required to start a business. However, now I have a better understanding of marketing, finance and legal issues and the need for a business plan.
"I would definitely recommend the 'Be Your Own Boss' programme to anyone interested in starting their own business locally in Armagh. Getting all of the information in one place was really useful."
Congratulating Auguste on completing the programme, Eileen Stewart, Manager of Armagh Business Centre, said: "Many people have often thought about being their own boss, but never knew how to go about it. This new programme can be the first steps to realising that ambition, just like Auguste. We are delighted to have been able to provide this training and know Auguste will find it beneficial as she takes her new business idea forward."
Eileen continued: "In today's current economic climate there are quite a number of skilled individuals, men and women, who find themselves out of work, through no fault of their own, surplus to requirements, but with the skills, knowledge and experience which could very easily be put to good use in developing their own business.
"The 'Be Your Own Boss' programme offers local people a tailor-made training and business planning service."

The programme consists of three detailed business start training sessions, covering areas such as how to carry out market research, promoting your product or service, selling, networking, taxation and bookkeeping along with a professional business plan.
If you are interested in finding out more about the Be Your Own Boss programme contact :
Armagh Business Centre on 028 3752 5050 or e-mail: This e-mail address is being protected from spambots. You need JavaScript enabled to view it