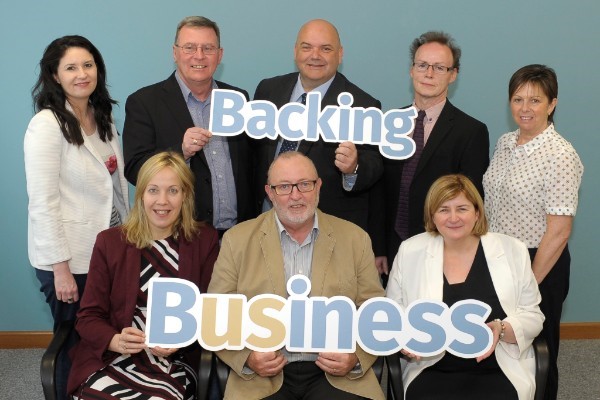 Pictured at a recent meeting with Cllr. Joe Nelson Chair of Economic Development and Regeneration Committee are Enterprise Partners and senior Council representatives.
As part of an ongoing drive to ensure Armagh City, Banbridge and Craigavon Borough continues to be recognised as a centre of excellence for entrepreneurship, innovation and investment, senior council representatives recently met local enterprise partners to explore how they can further collaborate in a bid to strengthen the borough's position as a premier location for business.

Having previously spearheaded a number of initiatives aimed at raising the profile of local enterprise partners, the business space, facilities and support services they provide to businesses across the borough, council officials welcomed the opportunity to forge stronger links with those who work on the frontline supporting businesses day to day.

Chaired by Councillor Joe Nelson, the meeting proved very productive with all those present benefitting from a good exchange of information and expressing a renewed commitment to working towards the common goal of supporting sustained business growth.
Acknowledging the valuable role that enterprise partners play in enhancing the business environment at a local level, Councillor Joe Nelson, Chair of the Council's Economic Development and Regeneration Committee, commented:

"In addition to offering an unrivalled suite of business support services, local enterprise partners currently provide 382 modern and affordable units for 264 businesses at 14 sites across the borough – creating 1,104 jobs and contributing over £26.8m in wages to the local economy.

The borough boasts a higher than average business start-up rate (5.8% compared to 5.1% for NI) and a 39% five-year survival rate for businesses established in 2010. These statistics reflect the important work that local enterprise partners do in nurturing and growing the borough's business base.

It is evident from our discussions with local enterprise partners that there is a collective will to work together in a more integrated way on the delivery of future initiatives such as Enterprise Week 2018 and synergise our efforts to address long-standing barriers to business growth, namely the provision of more work space units for new start-ups and accommodation space for businesses in need of larger premises with greater capacity."

To find out more about the council's enterprise partners as well as view a video about their facilities and services, visit www.armaghbanbridgecraigavon.gov.uk/business/business-space/